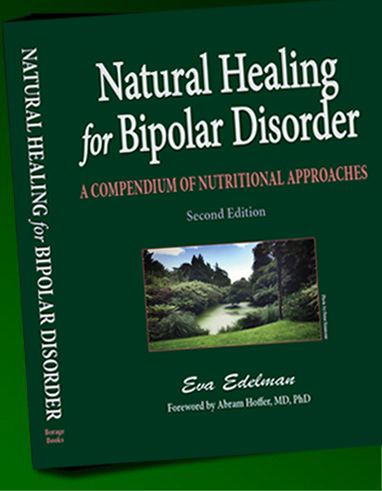 Natural Healing for Bipolar Disorder
A Compendium of Nutritional Approaches
"Eva Edelman has completed another masterpiece, doing for bipolar disorder what she did for schizophrenia. It's a classic work people will refer to for years to come, and a must-read for anyone interested at all in bipolar disorder." — Michael Lesser, MD
"Every person who values his or her own health and the health of others should have the information you have gathered into such a useful volume. It just may save their lives." — Abram Hoffer, PhD, MD
"The best book... about the realities of bipolar disorder that I have read in my entire medical career... A magnificent sequel to her excellent book, Natural Healing for Schizophrenia." — Bradford S. Weeks, MD
"The first comprehensive volume on nutritional approaches for bipolar disorder ever written... required reading for our research and medical staff." — William J. Walsh, PhD

Buy Natural Healing for Bipolar Disorder Here


Table of Contents

Look Inside

Acclaim

Reviews

Natural Healing for Bipolar Disorder: A Compendium of Nutritional Approaches
Natural Healing for Bipolar Disorder: A Compendium of Nutritional Approaches is a clear, comprehensive, and extensively documented resource. It provides an overview of stimulating, inhibitory, and stabilizing nutrients and herbs, and of nutrient approaches for contributory factors, including imbalanced brain chemistry (neurotransmitter, receptor, and second messenger issues; methylation status, oxidative stress, seizural problems, toxicity, etc.) and physical illness (e.g., allergies, malabsorption, Candida, endocrine imbalance). It has been highly acclaimed by key practitioners.
First edition, 2009. Foreword by Abram Hoffer, MD, PhD.
Contains glossary, resources, recommended reading, and extensive references.
Illustrated. 8.5 X 11, 392 pages, $39.95. ISBN: 9780965097604. LCCN: 2009920436.

Buy Natural Healing for Bipolar Disorder Here


Table of Contents

Look Inside

Acclaim

Reviews

Treatments

Bipolar Blog